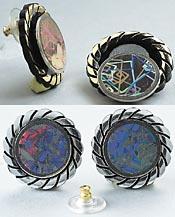 LEAR
PRODUCT Magnetic Ball Marker Earrings

DESCRIPTION Look no further than your ears to find your ball marker! Thin, iridescent magnetic ball markers attach directly to earrings. That's convenient! Available in gold or silver (pierced only) please specify.
COLORS: Gold,Silver

PRODUCT ID LEAR - $16.00 Pair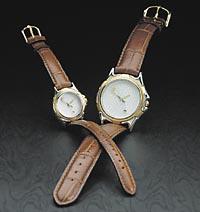 PRODUCT Ladies' Watch

DESCRIPTION Two-tone bezel with sporty golf ball face and sweep second hand. Golf club minute hand provides the perfect "follow-through." Stainless steel back and croc-embossed leather strap. Accurate quartz movement one-year limited warranty. Please specify men's (1-1/2" dia. face, 1/2" band) or ladies" (1" face dia., 1/2" band). Each is gift-boxed.

PRODUCT ID OE589L - $48.00

PRODUCT Men's Watch

DESCRIPTION Two-tone bezel with sporty golf ball face and sweep second hand. Golf club minute hand provides the perfect "follow-through." Stainless steel back and croc-embossed leather strap. Accurate quartz movement one-year limited warranty. Please specify men's (1-1/2" dia. face, 1/2" band) or ladies" (1" face dia., 1/2" band). Each is gift-boxed.
SIZES: Men's,Ladies'

PRODUCT ID OE589M - $48.00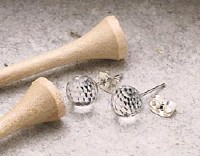 Crystal Golf Ball Earrings
Dimpled and faceted to catch every glimpse of light. A brilliant pair. Swarovski crystal.
LE559 - $24.00
Terms and Conditions of Sale:
Minimum order $100. Orders under $100 incur a $5 surcharge fee.
Shipping Included.
Prices and availability subject to change without notice.
Terms: Net Cash or PayPal.
No return of merchandise will be accepted without an authorization number.